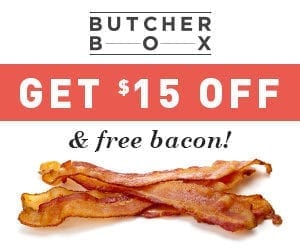 I've recently tried Butch Box and there's just something about high quality meat and its health benefits. If you are looking for:
Beef that is 100% grass-fed and grass-finished free of antibiotics and hormones
Chicken that is free-range organic and free of antibiotics and hormones
Pork that is heritage breed and free of antibiotics and hormones
Then I highly recommend ButcherBox.
How does ButcherBox work ?
1. Choose Your Box
Choose from our curated mixes of high quality beef, chicken, or pork – or customize your own.
2. Delivery to Your Doorstep
Receive all your meat in an insulated box, solid and packaged with care.
3. Cook with Confidence
By ordering from ButcherBox you'll get 100% grass-fed and grass-finished beef, free range organic chicken, and heritage breed pork, raised free from antibiotic and hormones—it's truly a mouth-altering experience.
ButcherBox is committed to premium meat.
100% Grass-fed & Grass-finished Beef
Heritage Breed Pork
Free-range Organic Chicken
Their goal is to make clean meat accessible to as many people as possible. And so by partnering with a collective of small farms, they are able to deliver the best products for less than $6 per meal. And shipping is free!
Click here to get Pound Dropper's exclusive offer, get FREE Uncured bacon no added sugar and nitrates and $15 Off your order.