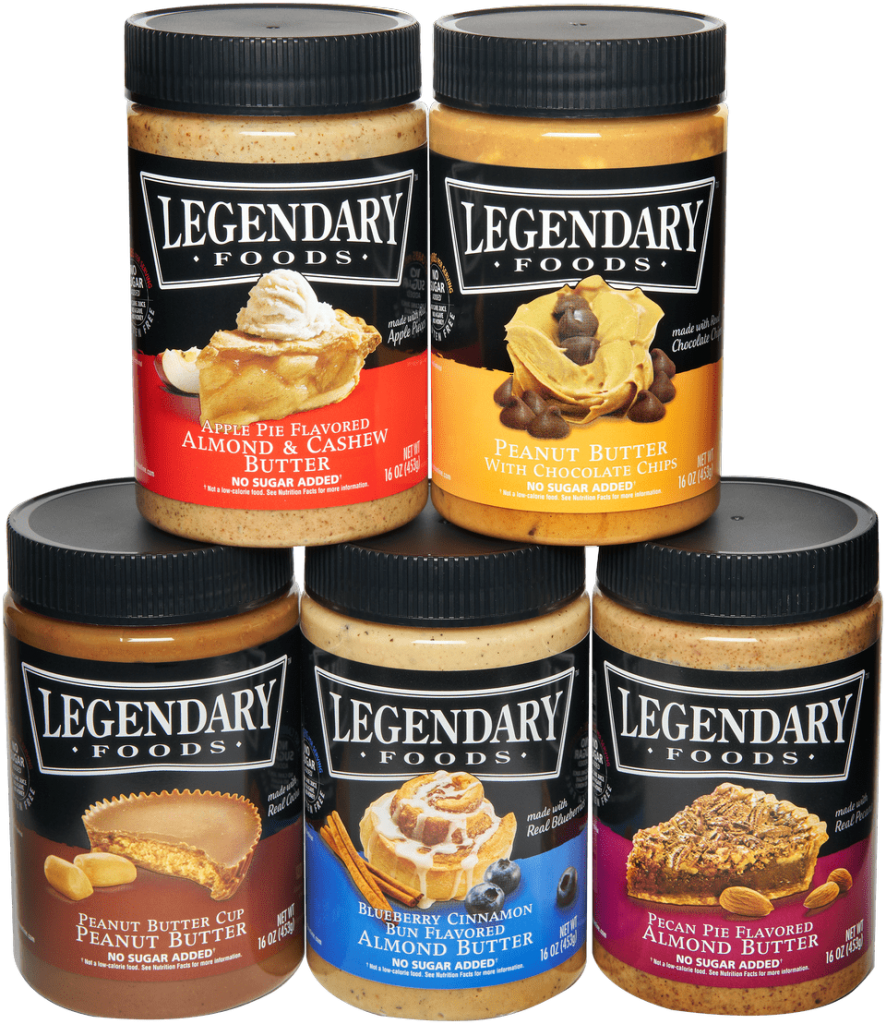 Legendary Foods Flavored Nut Butters
Legendary Foods offers no sugar added nut butters that contain ingredients only found in nature. These nut butter superfoods are packed full of nutrients, healthy fats, and an excellent source of protein. Our flavored nut butters contain no artificial flavors and are low in carbs. Legendary Food's no sugar added nut butters are great for paleo diets, low carb diets, and an overall healthy lifestyle.
They come in 16 oz. jars-and are flavored peanut butter, almond, and cashew butters.
For a taste of southern comfort, their Pecan Pie Almond Butter satisfies your sweet tooth while giving you important nutrition your body needs.
For candy fanatics, their Peanut Butter Cup Nut Butter is made with real cocoa and their Peanut Butter Chocolate Chip has actual sugar free chocolate chips!
You can also indulge in their Blueberry Cinnamon Bun Almond Butter made with real blueberries and a dash of cinnamon to help keep you full and satisfied between meals.
If you love the taste of Apple Pie, they have that covered too! Enjoy their Apple Pie Cashew & Almond Butter, which contains pieces of real apple and swirled with cinnamon.
You can get 10% off your order using promo code: POUNDDROPPER
Click HERE to order
Here are the Point VALUES for the Nut Butters
Blueberry Cinnamon Bun Almond Butter: 5 Freestyle Smart Points for 2 Tbsp or 2 Freestyle Smart Points for 1 Tbsp
Peanut Butter Cup Nut Butter: 5 Freestyle Smart Points for 2 Tbsp or 2 Freestyle Smart Points for 1 Tbsp
Apple Pie Cashew & Almond Butter: 5 Freestyle Smart Points for 2 Tbsp or 2 Freestyle Smart Points for 1 Tbsp
Peanut Butter Chocolate Chip: 6 Freestyle Smart Points for 2 Tbsp or 3 Freestyle Smart Points for 1 Tbsp