If you are like me and have been searching for the "perfect" sugar substitute for my cheesecake recipe, morning coffee, or any other WW recipe…. than look no more. Recently I tried Lakanto Sweetener – MonkFruit Sweetener – a zero glycemic, zero calorie and all natural sugar substitute and it's by far the best tasting sweeter out there.
I'm telling you this Lakanto Sweetener is a game changer-it has no artificial aftertaste, has 0 calories, 0 additives, 0 Freestyle smart points, gluten free, 0 carbs and bakes and tastes just like sugar.
You won't miss sugar with this perfect sugar alternative.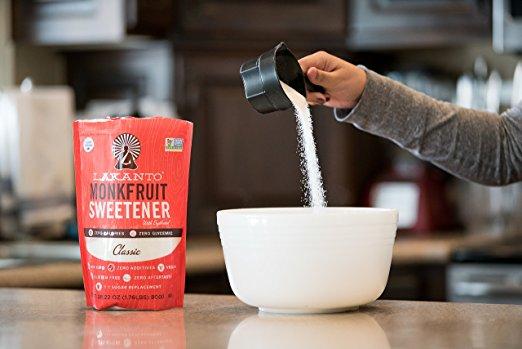 What is LAKANTO MONKFRUIT SWEETNER?
TASTES just like sugar | Zero net carbs, Zero calorie, Zero glycemic Sweetener
1:1 SUGAR REPLACEMENT | Lakanto has a perfect mix of monk fruit and erythritol to match the sweetness of sugar and maintain your baking and cooking needs
LIFESTYLE FRIENDLY | Keto, Diabetic, Candida, Paleo, Vegan, Low Carb, Low Sugar, NON-GMO, and All Natural
CLASSIC & GOLDEN | Golden Lakanto is a brown sugar substitute and our Classic White is a white sugar substitute | Color and Flavor comes from different parts of the Monk Fruit
INGREDIENTS | NON-GMO Erythritol and Monk Fruit Extract | NO Natural Flavoring, NO Fiber, NO Maltodextrin, NO Artificial flavoring or sweeteners
Click HERE to purchase the Lakanto Monkfruit Sweetener.
Save 20% on all non sale items with promo code: pound20
What products do they sell?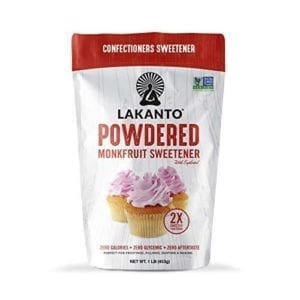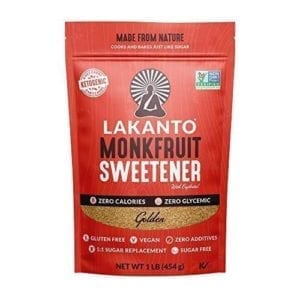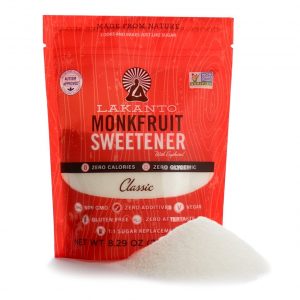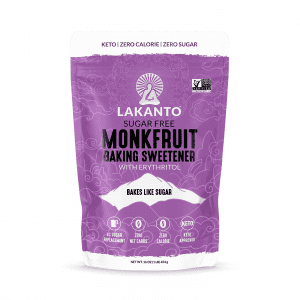 What is Lakanto Monk Fruit Baking Sweetener?
TASTES JUST LIKE SUGAR: Contains zero net carbs and zero calories. Perfect for baking cookies, cakes, and other sweet, sugar-free treats.
LIFESTYLE FRIENDLY: Works with WW, ketogenic, diabetic, candida, paleo, vegan, low-carb, low-sugar, non-GMO, and all-natural diets.
What is the difference between Lakanto Monk Fruit Classic Sweetener and the Lakanto Monk Fruit Baking Sweetener?
BETTER FOR BAKING: Lakanto Baking Sweetener dissolves effortlessly, retains moisture, can control cookie spread, and provides better browning for your desserts.
Lakanto Monkfruit Baking Sweetener provides the same great taste and sweetness you'll find in Lakanto Golden and Classic Monkfruit Sweeteners, but it's even better for baking.
Bakes just like sugar, zero net carbs, and NO aftertaste!