Pound Dropper Recipe E-Book
A Recipe Book For A Healthy Alternative for Everyday Cooking!
MyWW recipes that includes Smartpoints
Since hitting my weight goal, I've been pursuing new goals as I enter another chapter in my weight loss journey. One of those goals is to continue to help others reach their fitness and weight-loss goals.
These recipes helped me lose over 93 pounds and get me to GOAL. I'm a firm believer that we can enjoy the foods we love to eat and still lose weight.
I have always been passionate in sharing my successes along with my recipes with others who are on a similar journey.
Now, you can OWN these recipes for as little as 16 cents per recipe. Owning this e-book allows you to have the recipes at your fingertips so you can reference them regularly without having to scroll through my entire Instagram or blog posts looking for a particular recipe.
I hope this will be a valuable tool for you on your journey as it has been for me.
This ebook is called "Pound Dropper. A recipe book for a healthy alternative for everyday cooking."
What is included in the Pound Dropper E-book?
This electronic recipe book is for healthy alternatives to everyday meals, which has over 60 of my most popular MyWW (Weight Watchers) recipes. These are the recipes I created and use regularly on my wellness journey.
You will get breakfast recipes, sauce recipes, snack recipes, meal recipes, sweet treats, and of course- my famous low point/zero point cheesecake recipes!
Do the recipes include the SmartPoints?
Yes! Each recipe in this ebook includes the SmartPoint value for the each MyWW (GREEN, BLUE, and PURPLE) plan. Each recipe includes a shopping list.
What is the MyWW Program?
As any Weight Watchers member knows, every few years WW introduces a new program. This year is no different. The new WW program is called MyWW and it launched in the United States, Canada, and the UK, the week of November 11th 2019.
Mindy Grossman, WW CEO, said, "We are committed to always being the best weight management program on the planet, but now we're putting our decades of knowledge and expertise in behavioral science to work for an even greater mission. We are becoming the world's partner in wellness. No matter what your goal is — to lose weight, eat healthier, move more, develop a positive mind-set, or all of the above — we will deliver science-based solutions that fit into people's lives. This is just the beginning of our journey to become the world's partner in wellness."
MyWW is one program but there are now three plans to choose from. This new program is more personalized. It allows members to choose what plan works best for them.
What are the Three Plans on MyWW?
The three different plans are known as:
green, blue and purple
GREEN plan (previously known as SmartPoints beyond the Scale): 100 Zero Point Foods-includes fruits and non- starchy vegetables + minimum daily points of 30 SmartPoints. Click HERE for a printable list of Zero Point Foods for the Green Plan.
BLUE plan (known as Freestyle): 200 Zero Point Foods-includes lean meats, fruits, vegetables, legumes, + minimum daily points of 23 SmartPoints. Click HERE for a printable list of Zero Point Foods for the Blue Plan.
PURPLE plan (previously known as Core or Simple Filling): 300 Zero Point Foods includes lean meats, fruits, vegetables, legumes, potatoes, and some whole grains + minimum of 16 daily SmartPoints. Click HERE for a printable list of Zero Point Foods for the Purple plan.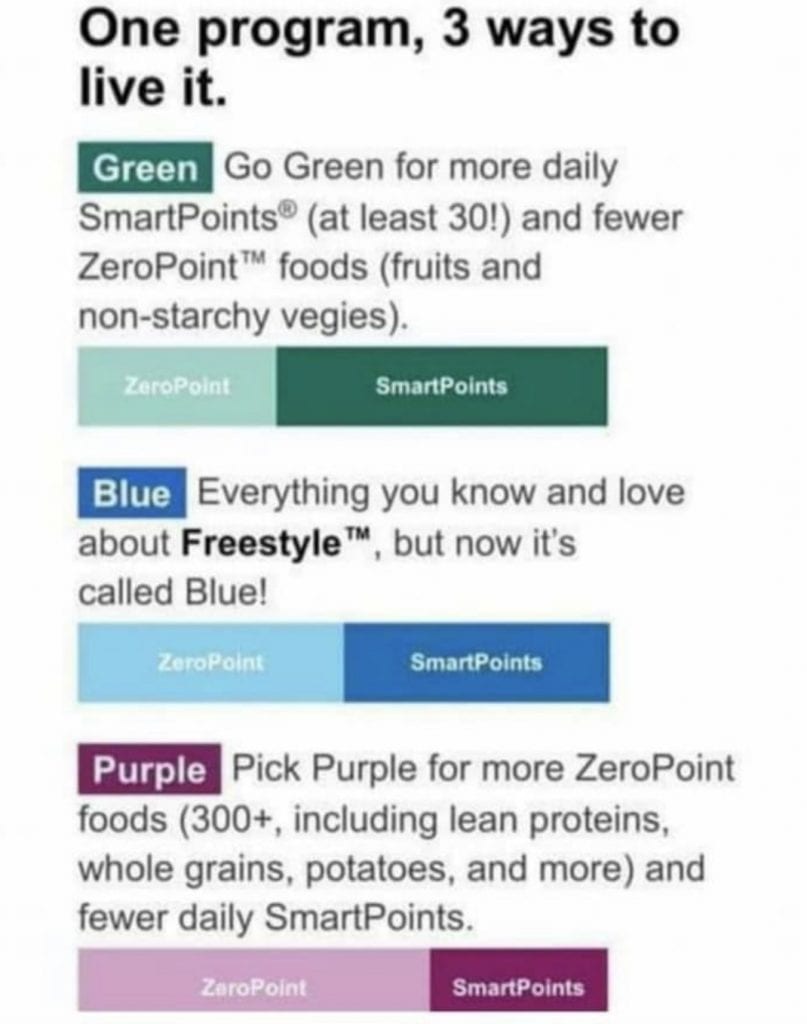 Click HERE to read more about the MyWW program.
How can I order Pound Dropper's recipe Ebook?
You can purchase the Pound Dropper's electronic printable PDF recipe book file directly from me via PayPal. To order the PDF printable version click the PayPal button below, the electronic recipe book will be sent to your PayPal email address.
$9.99
The PDF recipe book will be sent within an hour of purchase. However, in extreme circumstances it can take up to 48 hours for the PDF file to be received.
If you haven't received the PDF recipe book within 48 hours please email me at: [email protected]
If you would like it sent to an alternate email please include that email address in the note section of PayPal.