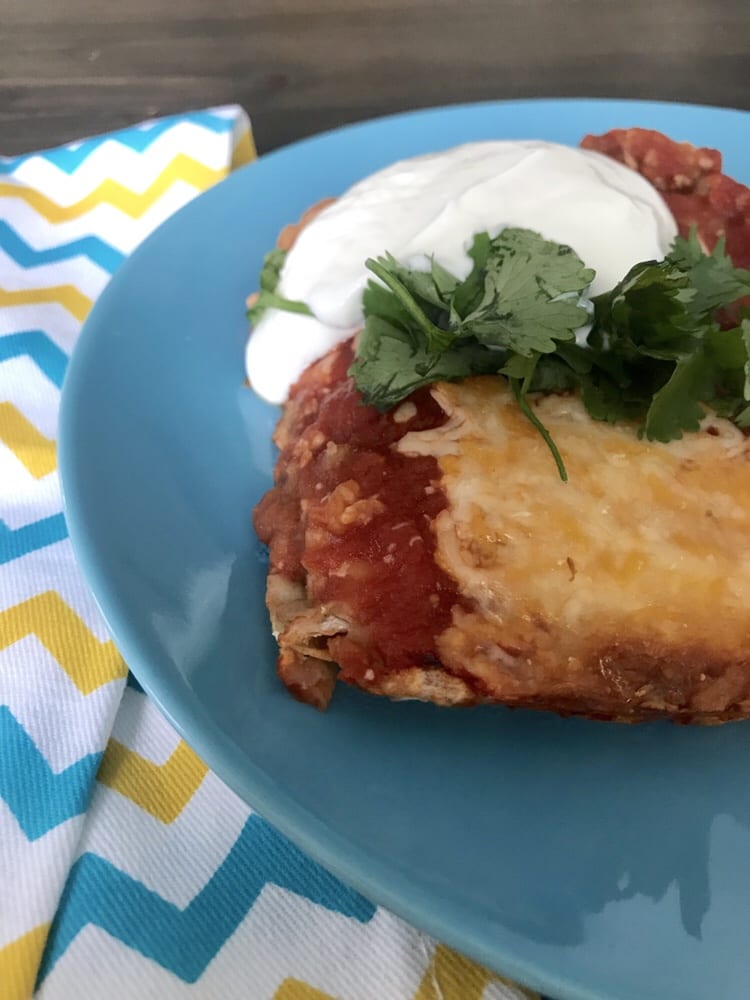 Ingredients:
1 lb ground turkey ( I use 99% fat free Jennie-o ground turkey. However, you can use 93% fat freee ground turkey for 3 additional points per serving.)
1/4 cup onion, chopped
1/2 Tbsp taco seasoning + 2 Tbsp water ( I use Dak's salt free Taco Knight)
1 (8oz) can red or green enchilada sauce
2 Cut Da Carb wraps or any low point tortillas or wraps
1/2 cup lite cheese ( I use the lite 3 cheese blend from Trader Joe's)
1 (10 oz) can traditional fat free refried beans
Directions:
Preheat oven to 350 degrees.
Spray a medium skillet with non stick cooking spray, brown ground turkey with onion.
Stir in taco seasoning, water, refried beans & 1/2 can enchilada sauce. Mix until all ingredients are incorporated and remove from heat.
Spray the bottom of a 9×13 baking dish, place 1 wrap at the bottom of dish, add 1/2 of the taco mixture and then layer with another tortilla and repeat.
Pour remaining enchilada sauce on top of lasagna and sprinkle with cheese.
Bake for 20 miinutes or until bubbly.
Notes:
Top with your favorite toppings: shredded lettuce, non fat Greek yogurt or fat free sour cream, Tostitos cheese dip, tomatoes, cheese or sliced avocados.
Servings: Makes 4 servings/ 3 Freestyle smart points per servings
Notes: Get FREE-SHIPPING and 10% off your order of these Salt Free, All Natural Dak's spices using promo code WWpounddropper.
Click here to purchase them online through Dak's website.