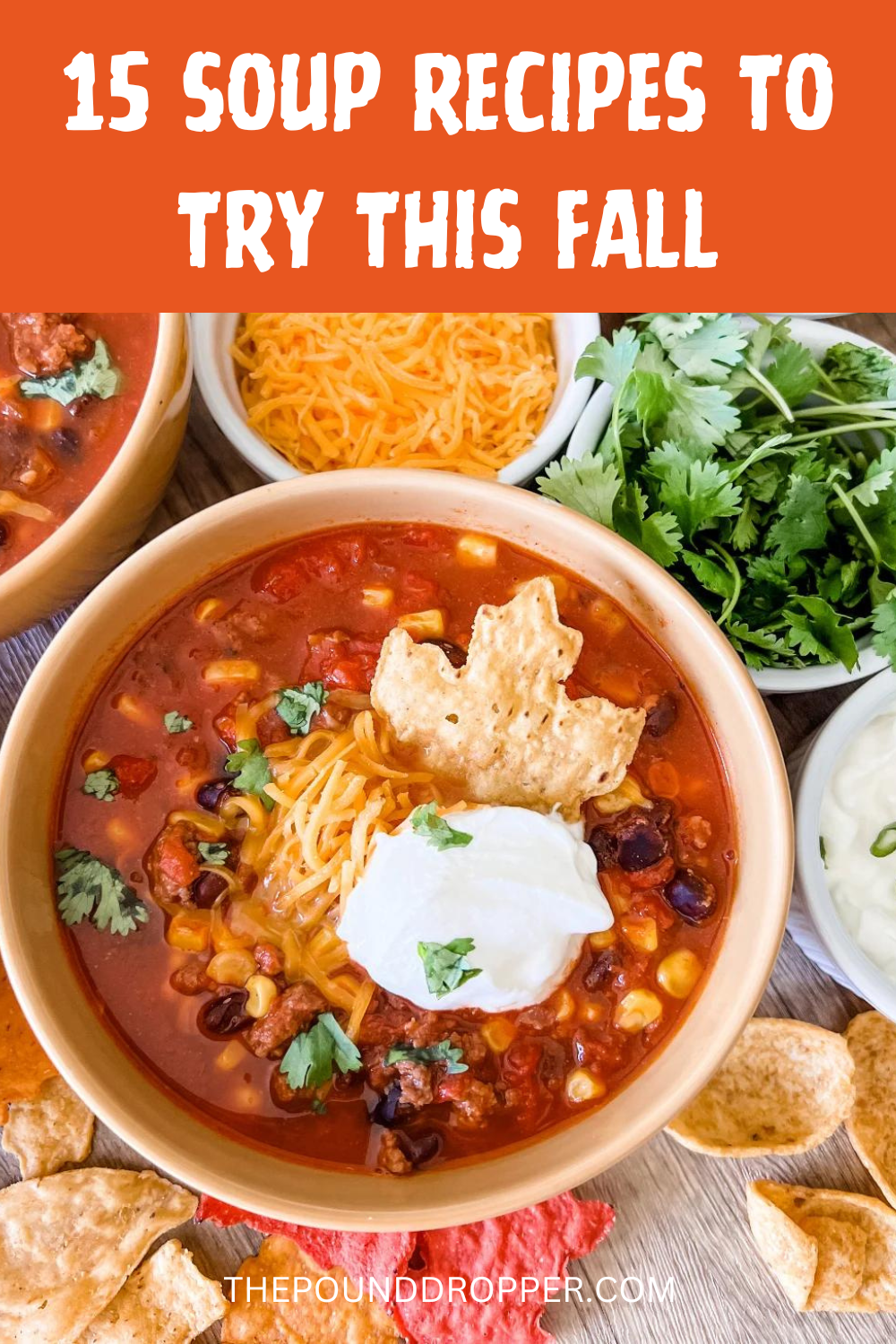 Soup, Stew, and Chili are some of my favorite meals in the fall and winter. Whether you are looking for a hearty and filling soup, or something more light and veggie-based, these soup recipes will keep you warm and cozy all season long! Here are 15 of our most popular lightened up soups recipes that are so filling, tasty, and packed with so much flavor! The hardest part will be choosing your favorite!
This Easy Chicken or Turkey Stew is a scrumptious one pot soup recipe for a chilly evening. It's hearty, full of flavor, and loaded with chicken, baby potatoes, veggies, and fresh herbs-it's a soup recipe that will be on repeat all season long!
This white bean chicken chili recipe is creamy and so delicious! I used light cream cheese in place of canned cream of chicken soup and all I can say is…..it's WINNER!
Creamy Chicken and Wild Rice Soup
This Creamy Chicken and Wild Rice Soup is a lightened up version of Panera's Chicken and Wild Rice Soup-perfect for a chilly day!
This Easy One Pot Taco Soup is hearty, filly, and perfectly flavored. This Taco Soup is packed with homemade taco seasonings, onions, garlic, black beans, corn, lean ground beef or ground turkey, crushed tomatoes, green chilies, and beef broth! It's just what you need to make a simple weeknight meal that the whole family will love!
Lightened Up Copycat Olive Garden Chicken Gnocchi Soup
This Copycat Olive Garden Chicken Gnocchi Soup is every bit as creamy and delicious as the restaurant version, but with less fat and calories-and costs a fraction of the price! It's simple to make and can be made in less than 30 minutes!
This Easy Instant Pot Potato Soup is pure comfort food! A lightened up version of a classic potato soup, that's easy to make and is so creamy and delicious! This potato soup can be made on the stove or in an instant pot! It's sure to be a family favorite!
This Slow Cooker Beef Minestrone Soup is full of protein, and vegetables. It's made in the slow cooker which makes for perfect meal for a busy weeknight.
Homemade Wendy's Copycat Chili
This Homemade Wendy's Copycat Chili tastes just as good, if not better, than the restaurant version! This is an easy chili recipe-made with fresh ingredients such as-lean ground beef or turkey, bell pepper, onions, diced celery, diced tomatoes, kidney beans, pinto beans, and spices!
Lightened Up Broccoli Cheese Soup
This Lightened Up Broccoli Cheese Soup is hands down the best broccoli cheese soup you'll ever make- it's creamy, cheesy, quick and easy!! How can you ask for more?
There's not much better than a big pot of homemade chili! This Classic Slow Cooker Chili recipe requires simple ingredients and it's easy to make for any night of the week!
Easy One Point Creamy Cauliflower Soup
This Easy One Point Creamy Cauliflower Soup is so easy to make and requires only a few ingredients! A perfect soup to warm your belly!
This Skinny Chicken Pot Pie Soup has all the flavors of a homemade chicken pot pie without the flaky crust! It's fully loaded with veggies, tender chunks of chicken, and seasoned with fresh herbs. This soup is easy to make and so flavorful, it's sure to be a family favorite!
Low Point Creamy Chicken Enchilada Soup
This Low Point Chicken Enchilada Soup is filled with chicken, corn, beans, tomatoes, two kinds of cheeses, and topped with your favorite soup toppings.
Lightened Up Creamy Buffalo Chicken Soup
Who needs buffalo hot wings-when you can have this Lightened Up Creamy Buffalo Chicken Soup! This soup will be your new favorite chicken soup recipe-packed with chicken, veggies, ranch seasoning, light cream cheese, and wing sauce!
Copycat Olive Garden Minestrone Soup
Serve up your favorite Olive Garden™ soup by making this Copycat Olive Garden Minestrone Soup at home. This hearty soup is made in one pot and takes less than 30 minutes to make.It's a copycat of the restaurant version that tastes even better than the original recipe!
Easy Instant Pot Classic Chicken Noodle Soup
Classic Chicken Noodle Soup has never been easier or quicker than in your Instant Pot! This Easy Instant Pot Chicken Noodle Soup is always a great choice-packed with chicken, egg noodles, chicken broth, onions, carrots, peas, and celery!
Tell us which soup is your favorite in the comments! We'd love to hear from you!
Did you know? Sharing our website, leaving a review, or making comments helps us continue to do what we love to do; which is helping others find success on their wellness journey and creating FREE delicious lightened up recipes!
If you have made one of our recipes-please tag @therealpounddropper on Instagram or on Facebook at Pound Dropper and share it with others!