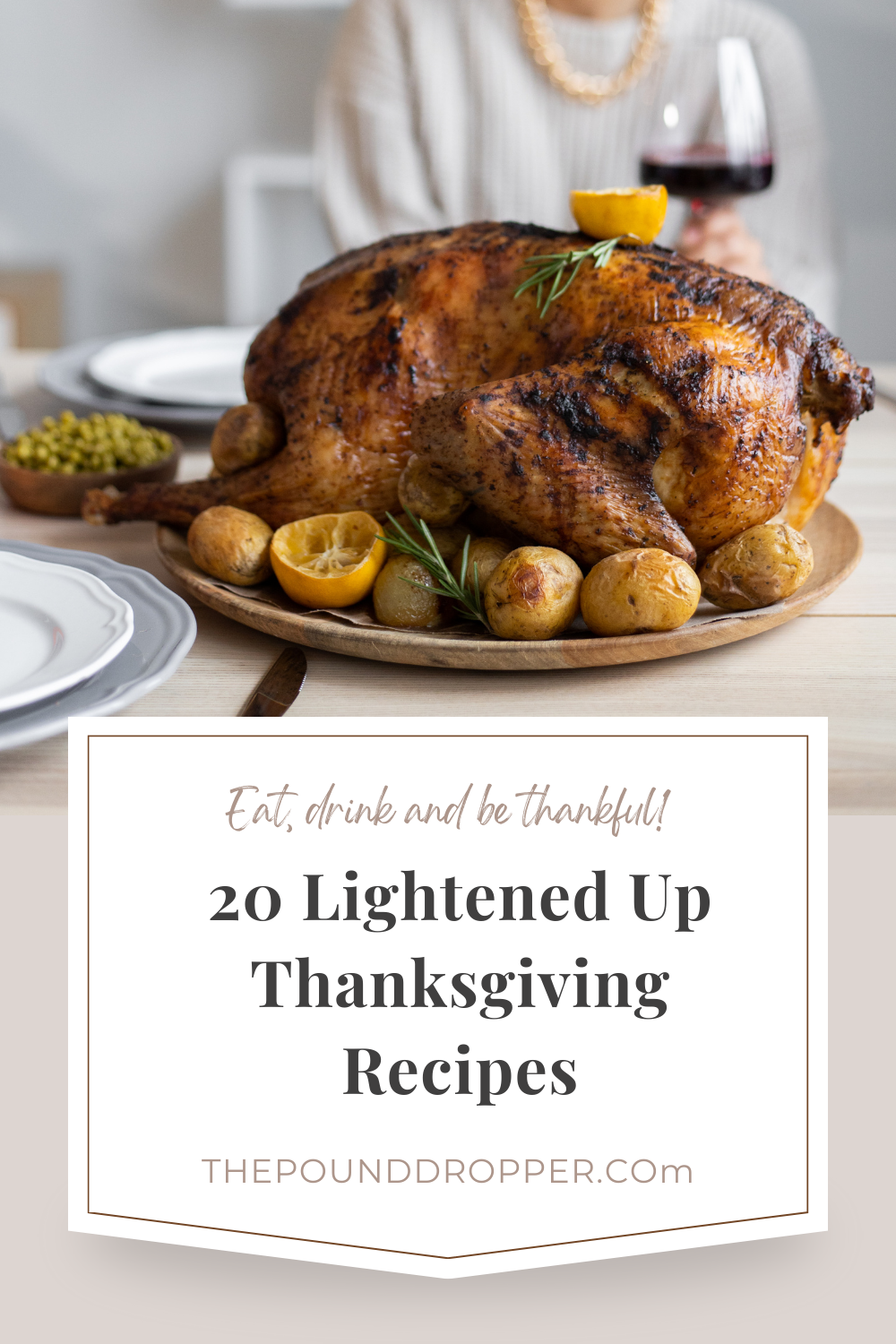 While turkey is usually the star at the Thanksgiving table-we've got you covered on watering side dishes and appetizers!
Did your great-uncle ask for a low carb pumpkin cheesecake? Well….we've got you covered. Below, you'll find our favorite lightened up Thanksgiving recipes-easy side dishes, low calorie, sugar-free desserts, and a few diabetic-friendly recipes that will be the highlight at your Thanksgiving table.
These Thanksgiving recipes are healthier than the traditional Thanksgiving sides, appetizers, and desserts without having to sacrifice the delicious taste of the Holidays!
This Thanksgiving Turkey Appetizer Tray will wow your guests this holiday season! Make this tray using your favorite fresh veggies, fruits, meats, and cheeses. This is a festive and delicious Thanksgiving Turkey Appetizer Tray that everyone will enjoy!!
These Lightened Up Pecan Pie Bites are a healthier alternative to traditional pecan pies-and contain less fat, sugar, and calories without sacrificing the flavor! They are everything you love in pecan pie but in mini form! Perfect to make for your Thanksgiving feast!
Easy Lightened Up Pine Cone Bacon Ranch Cheeseball
This Easy Lightened Up Pine Cone Bacon Ranch Cheeseball makes for a festive, quick and easy, appetizer or snack! This Pine Cone Cheeseball has been lightened up using light cream cheese, laughing cow cheese wedges, dry ranch mix, and bacon! This Easy Lightened Up Pine Cone Bacon Ranch Cheeseball is guaranteed to be the hit at your Thanksgiving table!
This Orange Cranberry Crisp is sweet, tart, and insanely delicious! This makes for an easy festive dessert for the Holidays!
This Easy Cheesy Broccoli and Cauliflower Bake, is a delightful dish that is easy to make and sure to please! Those who don't love broccoli and cauliflower always enjoy this dish. Who doesn't love a cheesy side dish?
These Creamy Mashed Potatoes are creamy, and full of flavor! A perfect side dish the entire family will love!
These Pumpkin Pie Crescent Rolls are easy to make, and made with just a few simple ingredients! A lightened up pumpkin cream cheese filling inside a flaky crescent and topped with a cinnamon sugar glaze!
This Cranberry-Pineapple Relish is one of my favorite things to make for Thanksgiving and the holidays-sweetened using crushed pineapples and sugar-free Jell-0!
These Skinny Scalloped Potatoes are the perfect side dish to any meal! Sliced potatoes in a creamy cheesy sauce and baked to perfection! They are a huge a crowd pleaser!
This Skinny Cranberry Orange Loaf or Muffins are packed with cranberries and flavored with fresh orange juice! An easy muffin or loaf recipe that's sure to be a favorite.
This Zero Point Crustless Pumpkin Pie recipe is perfect for fall-it's so good-you won't regret making this for your next family gathering! It's the simplest crustless pie recipe you'll ever make!! This crustless pumpkin pie is ultra creamy, super soft, custard like pie-without the crust!
This Easy Lightened Up Sausage Stuffing is the BEST LIGHTENED UP stuffing recipe. Made with simple ingredients and with minimal effort, making it an easy side dish that is full of flavor! Perfect for your Thanksgiving feast!
This is the BEST Lightened Up Creamy Corn Casserole. It tastes just as good as the original. It's sweet and savory, super delicious, and easy to make. This will be devoured at your Thanksgiving table.
These Lightened Up Cranberry Brie Wontons are festive, tasty, and make for a fabulous holiday appetizer!
This Easy Pumpkin Crisp will be your new favorite fall dessert-the perfectly smooth pumpkin spiced filling, topped with a crunchy oatmeal topping will have you going back for seconds!
This is the Best Lightened Up Chip and Veggie Dip! It's Dilly, Creamy, and Delicious! Pair it with chips or cut-up veggies! Requires only 4 ingredients and takes 5 minutes to make
This Lightened Up Pumpkin Poke Cake is an all time fall favorite at our house! A scrumptious pumpkin cake, soaked in a sugar free caramel sauce, and layered with a whipped cream pudding topping! It's sure to satisfy any sweet toot
This Zero Point Cranberry Sauce will be the hit at your next family gathering! Perfect as a Thanksgiving side
This Light Green Bean Casserole is a delicious dish for Thanksgiving. It is made with Swiss cheese which gives this dish a creamy amazing taste
This Easy Low Point Apple Crisp is a lightened up version of the classic fall dessert-which happens to be one of my favorite desserts-especially when served over light vanilla ice cream!
Give these a try and tell us your favorites below!
Did you know? Sharing my website, leaving a review, or making comments helps me be to continue to do what I love; which is helping others find success on their wellness journey by creating FREE delicious lightened up recipes!
If you have made one of my recipes and loved it-please tag @therealpounddropper on Instagram or on Facebook at Pound Dropper and share it with others!